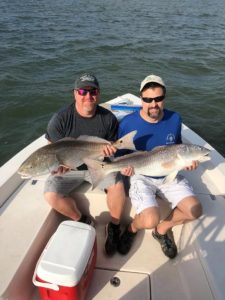 The Fall season in Charleston not only brings cooler air temps, bonfires, Lowcountry boils and college football. It is also very well known for its fall fishing season bringing in Bull Red Drum in the harbor, lots of Speckled Sea Trout and Black Drum in the creeks.
We have been on a strong Bull Red Drum bite the past week since we had our first cold front of the season. The fishing is so good in the creeks targeting smaller species as well so we have been splitting our half and six hour fishing charters in half and getting in on the action in the harbor and as well the creeks. From now until the end of the year, you can expect to catch fish in big numbers. We are averaging 20-30 fish on our six hour charters.
Give us a call, let us get you out here!
Check out our latest catches below, see ya out there!