March 28, 2020
Tides: 5:22AM Low 11:47 High
Water Temperature: 65.43 Degrees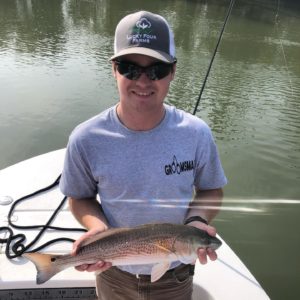 I set up a 7:30AM start time with my bachelor party to ensure we could fish around low tide and the tides were almost perfect to end the trip as the tides were too high into the grass. I went out the night before in hopes of finding the shrimp to keep alive overnight and luckily found them 20-30 a cast which made my job a lot easier.
Picked up my guys the next morning and headed north up the Intracoastal waterway, we stopped at our first spot and quickly hooked up on a few smaller black drum but my guys were not discouraged. As the bite increased so did the size of the fish! We went from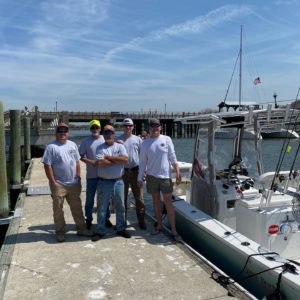 14″ Black Drum every cast to 18-20″ Redfish every cast. The bite slowed up just a little bit so I made the executive decision to move a little further up the river to another spot, I knew would be going off.
The next spot picked up where the last spot left off and it was redfish after redfish with a few stud trout in the mix. We ended the day with a nice 27″ redfish and another 25″ redfish that was definitely the way these boys wanted to end the trip. We ended the trip with 32 redfish, 6 keeper trout and 8 black drum. I sent them home with a gallon zip lock bag of fish filets and another gallon bag of nice big white shrimp.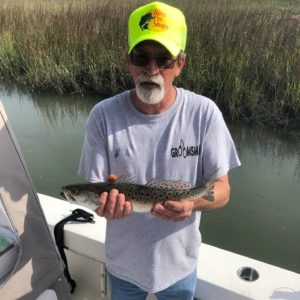 With everything going on with the Covid-19, South Carolina has unfortunately closed boat landings and parks to recreational boaters but allowing commercial and charter fishing guides to still access the boat landings. We are hoping for a fast recovery to all of this and hoping this does not mess our whole charter season up.
Give us a call and lets get you on the books for future reservations.
Capt. Zachary Litchfield