Tides: 6:37AM Low 1:22PM High
Water Temperature: 55.3 degrees
My clients requested a 10:00AM start so they could enjoy breakfast before the charter. I started out the morning deep holing for live shrimp for our half day fishing charter in about 42 feet of water. Shrimping started out a little slower than I would have liked but as the tide started to move I found them a dozen a cast in about 46 feet of water. After loading up the live well with live shrimp i started to head back to the boat landing to begin prepping my rods and boat.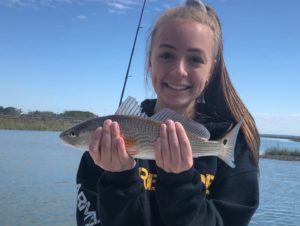 I initially made a 30 minute run to our first spot since we have had a strong redfish bite there. I normally do not like to make such long runs at the start of the charter but I also promised my clients i would give them the 30 minutes back on the end of the trip since that was not fair to take that much time.
I quickly demonstrated how to properly cast a spinning rod and how to reel in the fish when they got a bite and set them up with a live shrimp on a circle hook. Within 60 seconds Jessica hooked up on a 16″ Red Fish and did exactly what I taught her as far as reeling in the fish and keeping the line tight! We safely released the fish and set her back up with another bait and sent it back out there! BAM! She instantly hooked up on a fish again and I could feel the jealous tension from her boyfriend Matt!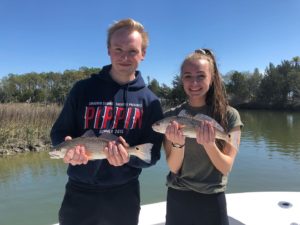 Finally everyone on the boat had caught a few fish so i suggested we move to another spot and take our chances on bigger redfish. We quickly hooked up on what seemed to be a 20-25″ redfish but Jessica could not keep it out of the dock pilings and we broke off. Redfish love to run towards the pilings in hope of getting away from not only our hook and line but other predators like dolphins and sharks. We unfortunately could not land one of these bigger fish so we went back to catching the smaller guys on a grass line.
After about 25 fish, the family decided they have had enough and decided to end the trip early to spend the rest of the day touring Charleston before they departed the next morning.
Now is obviously a great time to get big numbers on schooled up redfish but as March progresses into April, the bigger Bull Redfish (breeders) move back into our harbor and make for a fun action packed fishing charter. We normally fish the creeks for 2 hours and then move out into the harbor for the last 2 hours to take our chances on the bigger redfish. We hope to see you out there! Tight Lines!!
Capt. Zachary Litchfield