March 13, 2020
Tides:
Low- 6:46 AM
High 12:45 PM
Water Temp- 58.32 Degrees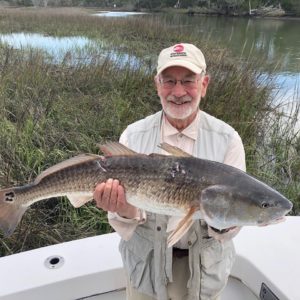 Started out the morning at about 0600 to catch live shrimp for my 8:00 AM half day fishing charter. The shrimp were nice and thick so it made for an easy morning throwing the deep hole cast net. After about 45 minutes of catching shrimp, i had enough in the live well to head to the dock and prepare the boat. My clients were early so we headed out for our short 15 minute ride to our first spot of the day. Our first spot produced a few smaller redfish but my expectations were a little higher for my clients than a few small redfish so i made the executive decision to reel in the lines and head for a different spot.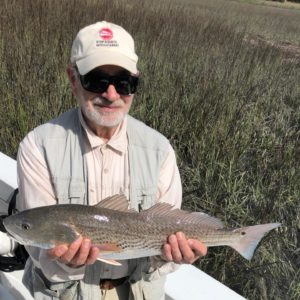 We made another 15 minute run to a spot we have been catching redfish in big numbers and sure enough we started catching redfish after redfish in the 17-21 inch range. My guys wanted to take their chances on an even bigger redfish so we moved a few hundred yards up the creek to some under water structure. It quickly produced some smaller redfish but i promised my guys it would pay off the longer we sat there. Sure enough, after about 20 minutes we heard the drag screaming from the rod that we had set the furthest away from the boat. We managed to get the fish to the boat and it was what we thought was the day maker, measured to be 28 inches and about 9 pounds.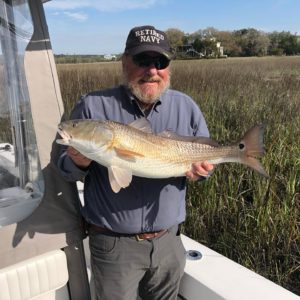 My clients were smiling ear to ear but I knew that wasn't the end of catching these larger redfish. Ten minutes later the further rod took off again and it was even bigger than the first one, the fish surfaced and had my guys in aww! Thirty seven inches and girthy, we landed the absolute beast! Something wasn't right about this fish though as it had multiple battle wounds from what it looked like a shark attack! A huge chunk was taken out of its side and multiple lashes on the opposite side. We were glad it was still strong and healthy enough to eat and fight the way it did.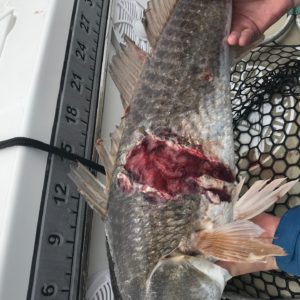 We finished the day with 32 redfish with a few obvious day makers. Despite the corona virus outbreak, we are still fully operational and still running fishing charters daily. We are taking extra precautions as far as fully sanitizing the boats prior to charters to ensure a clean germ free experience. Now is the time to book your 2020 fishing charter. Give us a call and lets go!
Capt. Zachary Litchfield
(843)560-4714