Weather: Cool Mornings 60-70 degrees mid day
Water Temp: Average 55-57 degrees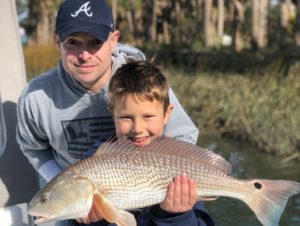 With the colder water temperatures, the redfish have just one thing on their mind and that is to eat whatever they can get in front of their nose. And with a week full of charters, I knew i needed to bring a buffet of bait (live shrimp, Mud Minnows and fiddler crabs with me in case they decide to be picky!
I have found all of my red drum stacked up in 30-40 fish schools against structure. With the clear water clarity we get in Charleston in the winter, you're literally able to watch them come up and eat like you are in the Florida Keys in some spots.
While the redfish bite is red hot, we are still looking forward to our great January – March killer sheepshead bite. Get the oil hot! Its filling cooler season!
See yall out there!
Capt. Zachary Litchfield
(843)560-4714
Follow us on Instagram for latest posts and story!