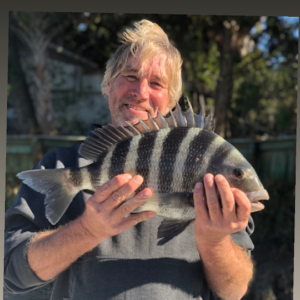 My clients and I mutually agreed on a noon 12 o clock start since low tide was at 11:47. (low tide this time of the year is ideal) I started the morning off by catching some deep hole white shrimp for our half day fishing charter. It was a little more difficult than it was yesterday but was still able to manage enough for our trip.
Picked up my anglers at Shem Creek public park and headed out to our first spot.
Within five minutes we hooked up on our first redfish. The redfish was 17" which allowed us to harvest it under South Carolina department of natural resources laws and regulations.
I pitched the idea of maybe having dinner at waters edge on Shem creek since they cook your catch.
After many double hookups on redfish, trout and black drum, Joe hooked up on a stud 22" sheepshead and it was an absolute day maker with high fives all around!
This only means one thing and that is that the bite is on fire! The next couple of months, we are going to specifically target sheepshead and redfish which makes for an action packed half day fishing charter! We have a great deal going on with 10% off gift certificates from now Christmas.
Book your Charleston, SC fishing charter online or by phone!
(843)560-4714